- Tom Dick, Inventory Control Supervisor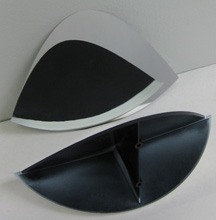 Renaissance Lighting manufactures high-end architectural, patented, solid-state LED lighting for commercial, government, medical, and residential construction including remodel projects. Pictured is the assembled, white 7DR3 downlight, including the reflector which is glued into place within the fixture.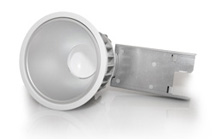 Shown with the actual housing it is glued to, the wall wash kicker part is made of Alanod Miro-Silver and looks deceptively simple, but there is a particularly hard curve to master.
We were not getting the reflectivity we wanted with the previous methods, and it wasn't passing our engineering inspections. I went out and starting looking for companies that did waterjet cutting. I sent out about a dozen quote requests including Micro Waterjet LLC. Of the quotes and questions I got back from those who did respond to me, Micro Waterjet came in at the lowest price of the quotes. Also a most important element was the lead time to get the part made and delivered to us. Micro Waterjet also had the shortest lead time as well.