Amputee Makes History with APL's Modular Prosthetic Limb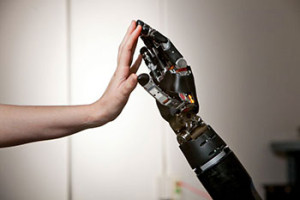 Huntersville, NC, January 21, 2015: A Colorado man made history at the Johns Hopkins University Applied Physics Laboratory (APL) this summer when he became the first bilateral shoulder-level amputee to wear and simultaneously control two of the Laboratory's Modular Prosthetic Limbs. Micro Waterjet created a variety of parts in this device for the fingers, hand, wrist, arm and shoulder for their customer, HDT Robotics.
"Micro Waterjet has been working with HDT Robotics since 2009 on numerous projects" Stated Steve Parette, Managing Director, Micro Waterjet LLC. "During this time, the engineering team at HDT became very familiar with the capabilities of Micro Waterjet technology. For this particular project, Micro Waterjet manufactured 23 different parts for this device. They are located in the fingers, hand, wrist, arm and shoulder. Seeing breakthroughs like this certainly shows what can be achieved with modern manufacturing, and represents true value to those of us who make these individual parts." For more information on the Robotic Arm, please visit John Hopkins Applied Physics Laboratory's website.